I saw two different tweets this week, each with statistics showing how important an integrated content plan is to the way we communicate:
The first is from @gerrymoran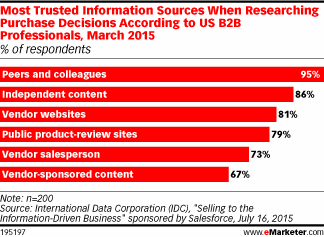 This shows how important it is to create content that our colleagues and independent analysts will value and share. It shows how we trust this shared content more than vendors' web sites and why pull campaigns tend to work better than old style pull campaigns. Rather than advertising to try to drive new prospects to your web site, focus on creating content that people will share, which will reach buyers when they are considering what and when to buy.
The second is from Simply Measured 
This shows the power of pull marketing too and how integration is key. Bloggers realise that if they want traffic, then integrating with social is key (you may notice that I tweeted a link to this blog post!) @njbaggott. Also, it shows the importance of SEO. AS Google's algorithms change, content is becoming more important, but particularly the social sharing elements that generate external links. 
So in summary, create valuable content that people will want to share (you can share this by clicking on any of the icons at the end of the post), promote it in your social channels and optimise for SEO.